DISCOVER HOW TO BUILD THE RETAIL STORE
YOU'VE ALWAYS DREAMED OF
"Whatever you're thinking, think bigger."
WHAT IS THE EPISODE ABOUT
Inside Retail Live 2020 didn't fail to live up the being the leading retail and eCommerce think tank in Australia and New Zealand. On this week's episode I'm sharing my Top Take Aways from the conference with thoughts and ideas from enterprise level retailers, global eCommerce superstars, tech and product developers and thought leaders, with a focus on how we can work together to build a robust and prosperous future for retail.
After the show, join the conversation or simply stay in touch at https://www.facebook.com/thesalenaknight/ and https://www.instagram.com/thesalenaknight/
The Bringing Business To Retail Podcast is an independent podcast produced by Salena Knight in collaboration with The Retail Academy.
This month's feature product is my Re-engaging Your Email List Business Builder Workbook. You can grab your copy today to work step-by-step through the strategy required to reconnect with your email database. Find it at https://theretailacademy.net/shop/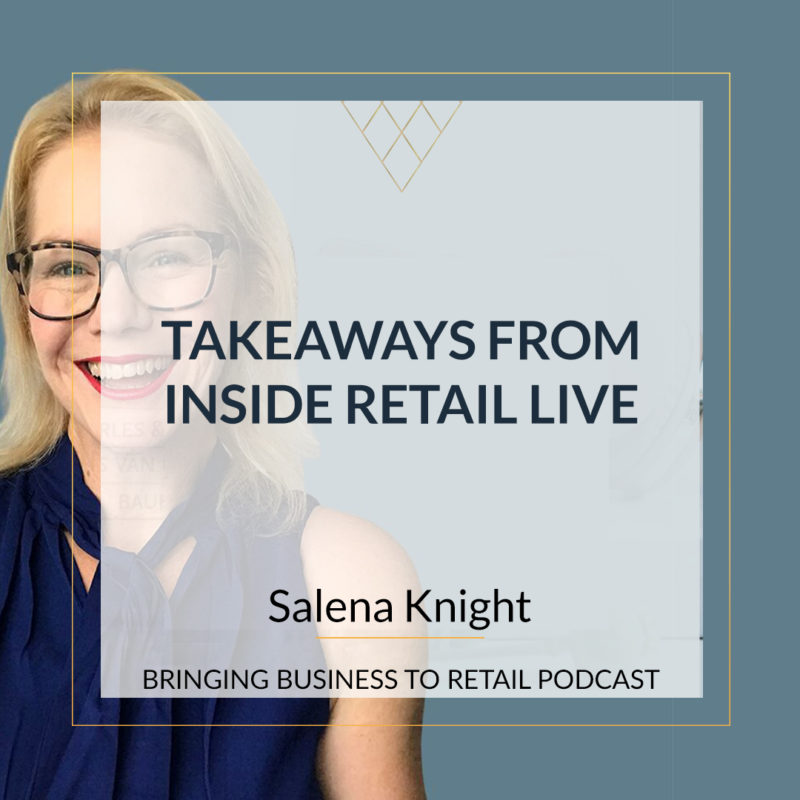 Bio
My passion is to help independent retailers like YOU to have a profitable retail business – without burning out.
Business doesn't have to be all about stress and hard work – you can achieve success and enjoy the journey.
Unfortunately, it took me too many years of working more hours than I should and getting to the point of burn out, before I figured this out.
Even though I had a business degree, there was nowhere I could go to find out how to open or run a retail business.
There was no community of retailers who would openly share their knowledge or experience.
"Each week I interview industry and thought leaders for their take on business and life. Subscribe and leave a review"