DISCOVER HOW TO BUILD THE RETAIL STORE
YOU'VE ALWAYS DREAMED OF
"Keep all of your Christmas products in one place and have everything in order"
WHAT YOU'LL DISCOVER IN THIS INTERVIEW
The holiday celebrations may be coming to an end, but that doesn't mean your retail store profits have to as well!
Today I am guiding you on how to maximise your retail sales after the holiday rush so you can make the most out of this sometimes slow period.
Plus, in this week's episode I giving you a bonus guide to show you some great ways that you can put products together, products that are great for your customers and can make you some money fast.
Before we get started though, last week we talked about 5 products to promote post-Christmas that you don't have to discount. In case you missed it, check it out now. It's not too late to get those rolling for your shop, especially if your store offers products to Australian customers.
This after holiday time is actually a fantastic period for retailers to revamp retail shops and create new, lasting excitement in your customers.
The first way to do that is to have a goal to refresh your store before the new year. This means all that Christmas stock has to go, no matter what, Mark it down, stat. Bundle it up and move it.  Don't forget about your store windows, website, and social media. Your customers are focused on the new year so they won't be interested to see the dregs of Christmas.
But it's important to remember that while getting rid of all of your Christmas stock don't leave your shelves empty. Keep all of your Christmas products in one place and have everything in order. Better yet save a few things to promote after Christmas, so that you have 'fresh inventory' for people to swoon over. So, know how much inventory you need for January, and sell (or buy) accordingly.
Now that you have your shop and products ready to go time for you to focus on how you will promote those. An easy start is to email your current customer email list. Let them know about your refreshed shop and new products. When turning to social media consider boosting your advertising budget – ads will be more expensive this time of year. Also, it's a great time to try something new. Try targeting a new audience or using a new platform –( e.g. Pinterest, Instagram)
Now that you're ready to Maximise your Retail Sales After Christmas how will you continue that year long? If you are looking to take your business to the next level and excel in 2018 you're key to maximising your retail sales in the New Year is right here! Submit your application now.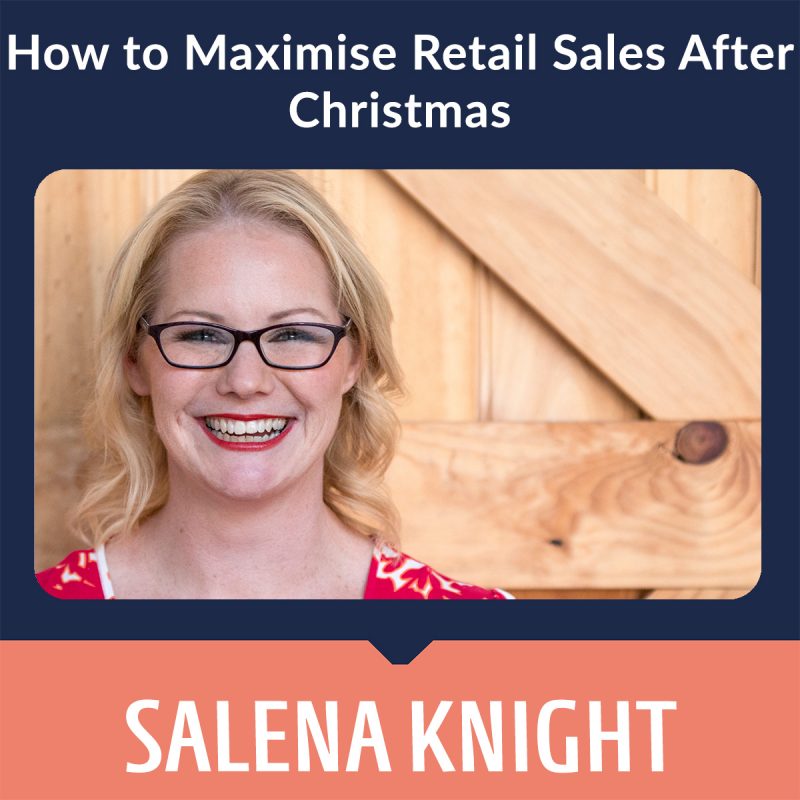 Bio
Over a decade ago, I started my first retail store online.
Things were different then.....
We were one of the first businesses on Facebook, out there building a community.
As it grew, I opened my first physical shop front.
That business grew to an award-winning chain of stores, had an army of loyal customers and a team that loved coming to work every day.
We created a brand, all built on a foundation of providing an awesome customer experience.
After systemising the business to the point I was no longer needed, I decided to sell up and help retailers around the world, grow their own retail empires.
And now I'm lucky enough to do exactly that. Every day I work with determined e-commerce store owners, bricks and mortar businesses and product creators, who use their retail businesses, to not only create freedom in their own lives, but to serve their customers in the best possible way.
I feel so grateful that we now live in a world where we can be buying and selling around the globe, 24 hours a day.
I love what digital marketing can do for our businesses and I'm constantly researching, testing and implementing products that can boost sales (preferably on autopilot), make our businesses run smoother and faster and give our customers, the personalisation that they're craving in this fast-paced world.
I'm so glad you're here, with me, along for the ride.
Strap yourself in - this is going to be great!