DISCOVER HOW TO BUILD THE RETAIL STORE
YOU'VE ALWAYS DREAMED OF
"Create your trade show budget and work backwards from there"
WHAT YOU'LL DISCOVER IN THIS INTERVIEW
Learn some of the biggest mistakes people make when it comes to a trade show. [16:09]
What is the queue [18:35]
How to recognize real value of your product [28:20]
Why do you need to have minimal open requirement [35:14]
How to connect with other people and why that's important [43:50]
It is OK to share boot with somebody else [46:17]
How to create strategy and organize trip to trade shows [54:43]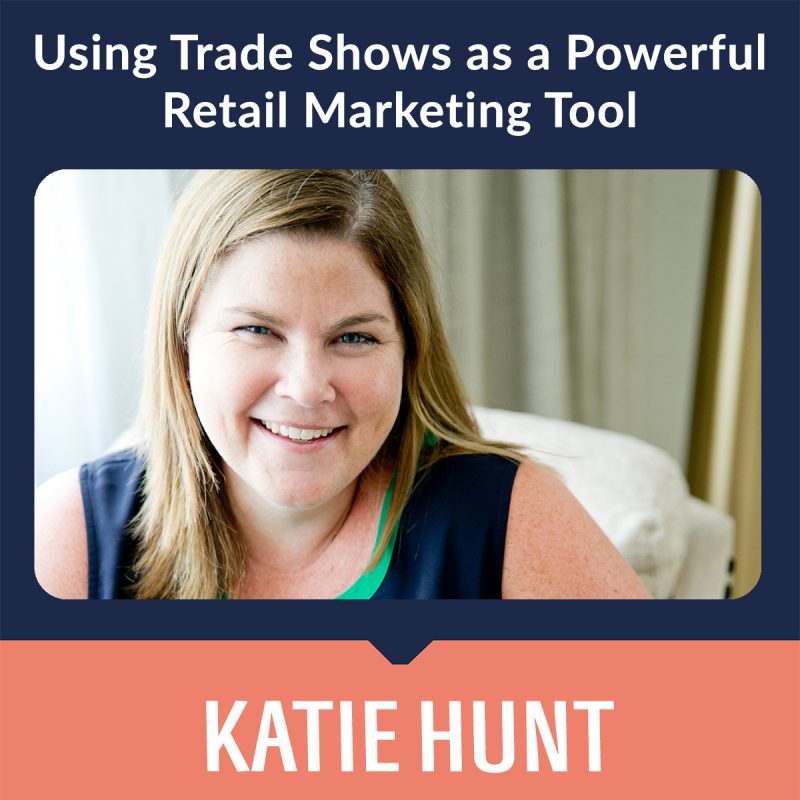 Trade Shows…Have you ever considered them in your store's retail marketing plan? If not now is the time to reconsider! We have Katie Hunt here today to educate us on using trade shows as a powerful retail marketing tool!
Katie is the founder of Tradeshow Bootcamp, host of the Proof to Product podcast, a business strategist, and mentor to creative entrepreneurs.  Katie launched her wholesale line for Kelp Designs in 2009 and was selling in retail stores nationwide until 2016, when she decided to discontinue manufacturing and pour her time and energy into the TSBC community, and today we will learn all about getting ready for trade shows especially when you are a retailer.
In Today's Episode Discover:
The biggest mistakes people make when it comes to a trade show.

How to recognize the real value of your product.

What preparations you need to make before you go to a trade show.
What is most important benefit you receive in participating in Trade Shows.

Benefits to sharing a Trade Show Booth.

How to organize, create a strategy and set a budget for your Trade Show event.
Bio
Katie Hunt is the founder of Tradeshow Bootcamp, a business strategist, and mentor to creative entrepreneurs. She is a firm believer in professional development, surrounding yourself with community and pushing 'go' even when you might not feel 100% ready.
Katie has taught classes for CreativeLive, The Savvy Experience, Seanwes Conference, Be Sage Conference, Unique Camp, and Makers Nation. She frequently speaks about strategies for creating a product line, selling wholesale, business planning and the importance of community for entrepreneurs.
Katie also recently launched her podcast, Proof To Product, which debuted at #19 in iTunes in the Arts category and is routinely in the top 100. Proof to Product takes listeners behind the scenes of growing a product-based business. Guests share their successes, struggles and how they've made difficult but important transitions in their business to continue growing.
Katie earned a dual MBA in marketing and finance from Loyola Marymount University and has spent the last 16 years coaching large corporations and entrepreneurs on marketing and business development strategies. Her strengths lie in connecting people and bringing ideas to life – brainstorming, making a plan and executing. Katie has a passion for creating, a mind for business and a strong desire to help others succeed.