DISCOVER HOW TO BUILD THE RETAIL STORE
YOU'VE ALWAYS DREAMED OF
"Miranda is a not only an online marketing strategist but coach and Facebook ads guru"
WHAT YOU'LL DISCOVER IN THIS INTERVIEW
Facebook ads, why they have magic inside? [8:35]
What is the first place to start when it comes to your Facebook ads campaign? [10:46]
What is cold audience and what is warm audience? [14:35]
Secret about how to create good engaged page post. [17:52]
How to optimize your budget for Facebook ads. [22:33]
What is good size of audience to target? [27:15]
How much money you need to spend on your ads. [31:27]
How to create an attractive and eye-catching ad. [38:27]
Top 2 things to get most impact from Facebook ads.  [49:57]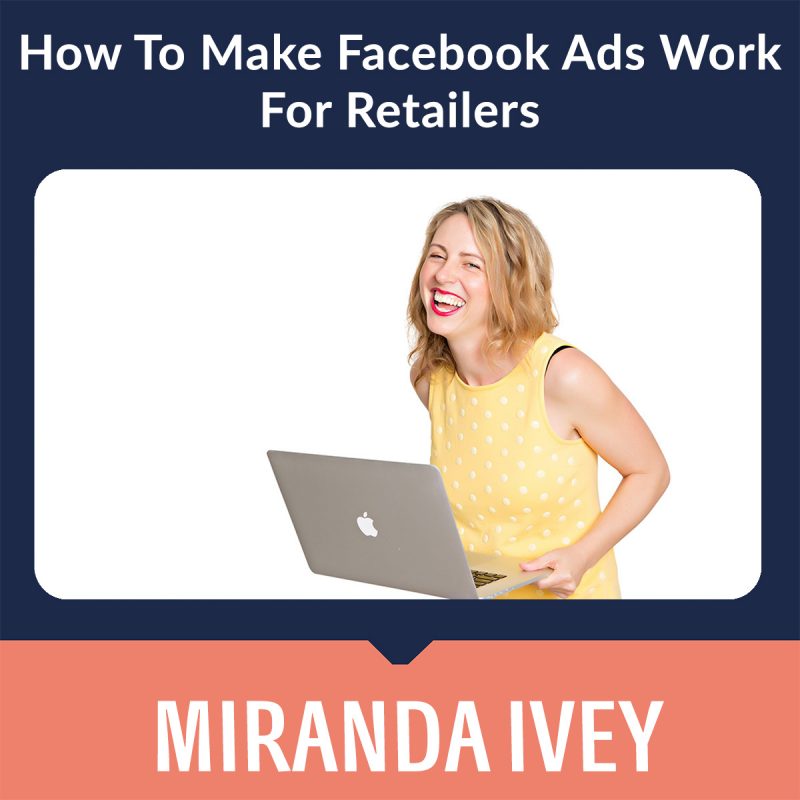 Bio
It's Miranda Ivey here.
For the past 3 years, I've headed up Dotti Media as an Online Marketing Strategist. I'm now combining my love of Facebook Ads, Marketing and Publicity into a new business starting in early 2018.
For all enquiries, contact me here: miranda@mirandaivey.com
"Miranda was great to work with. Her communication is always clear and timely and during our time together she kept me up to date with the results and tracking of our campaigns! Love the tracking and communication – it helped me feel confident about my ad spend and the results we were seeing! I'm also super grateful for the nudges to do video ads." – Louise Glendon, Click Love Grow
"Thanks so much for your time (and extra time… sorry!) today, it was amazing. We have had an increase in orders tonight so perhaps the new add strategy works!" Astrid, Bubnest
"If you're not very tech-savvy, starting a small business with the knowledge that people turn to social media to find products and services is scary as hell! In a short space of time at a networking event last night, Miranda not only gave amazing pointers, but did it with loads of personality which was both refreshing and reassuring." – Amy Logan, Marriage Celebrant
"I have done a few Facebook courses this year but Miranda's was the 1st to make total sense. Her class was very easy to understand and was at a pace I could keep up with." – Leanne McMahon, Epic Skate
"So clear, easy to understand, friendly and effective. Love your work!"Alice Moffet, Self Seed
"Today I had a one on one session with Miranda and it was so awesome! I feel relieved that I'm kinda on the right track and also got some great tips to make my ads better." – Emma Lovell, Lovelly Communications