DISCOVER HOW TO BUILD THE RETAIL STORE
YOU'VE ALWAYS DREAMED OF
"You don't want to make people feel bad"
WHAT YOU'LL DISCOVER IN THIS INTERVIEW
Last week, I went to do my yearly taxes.

Now this makes most people cringe, but for me, it was uplifting.

Not only did it give me a chance to see how things have changed in my business over the last 12 months, but I also analysed where money was going out, where it was coming in, places where we could make more money.

I also got to take about my accountant about budgeting over the next 12 months. I have forecasted my earnings for the next year, but I also know that I'll have to invest heavily over in that time, in order to move my business to the next level.

We talked about the tax implications of both of those. Where will the money come from.
We also talked about setting aside money for taxes. Here in Australia, we have this thing called provisional tax, whereby you have to pay a big lump sum of tax each quarter. We went through all of my income sources, including non business income and investments, and now I know how much I need to put aside each week, in order to not get hit with a massive tax bill.
Whether you're turning a profit, or if you're in debt, accepting where you're at, taking control, moving away from just hoping there will be some left at the end of the month, that's empowerment, it's good business practice and it's the easiest way to move your business to the next level.
So the accountant is the big picture guy (or girl). They can the information you give them, to help you with strategy. But they can only work with what you provide, so if you're leaving out key numbers, then they can only work with what you give them. This is where a good book keeper comes into their own. Most retailers shun the idea of a bookkeeper as a luxury, but I have ALWAYS said that this should be the first person you ever "employ" in your business. A book keeper doesn't have to be ridiculously expensive, but making sure the correct information is inputted can be the difference between a profit and a loss.
My number 3 key person to take your business to the next level is… a graphic designer.
I bet you're thinking "yeah Sal, I can't afford to have a graphic designer do everything I need.
But if you've been in business for a while now, it may be time to step up. Brand identity is the thing that propels your business forward. It allows you to charge a premium level. Why, because retail is all about feelings. That's what you sell. Whether it's convenience, or beauty, a sense of fulfilment, serenity – people buy because they want to feel a certain way. And if the way that you project your brand gets elevated, then your customers will pay more to feel a higher level.
And the last, but definitely not least person that you need in your business to move to the next level, is a Retail Mentor. My friend Denise Duffield Thomas says" don't take advice from people who haven't achieved what you want to achieve"
Why is it that we seek out advice from our mum & dad, the guy at the local fish and chip shop and even our bestie, only to feel deflated when they either serve you platitudes about "what a great job you're doing" and how "it'll all work out in the end"
#yeahthanks
If you're seeking out advice from people who are not kicking the goals that you want to achieve, then you're doing yourself and your retail business a disservice. It's holding you back, because there's no actionable advice. No strategy, no plan to move you forward.
Where you're at in your retail business journey, will always dictate the key people that you need to surround yourself, in order to go to the next level. Obviously the higher your goals, the more strategic you need to be.
But I can tell you this. NO business becomes successful with just one person. It's your job as the owner, to plot the path that you want to take, and navigate your way there. And to do this, you need people.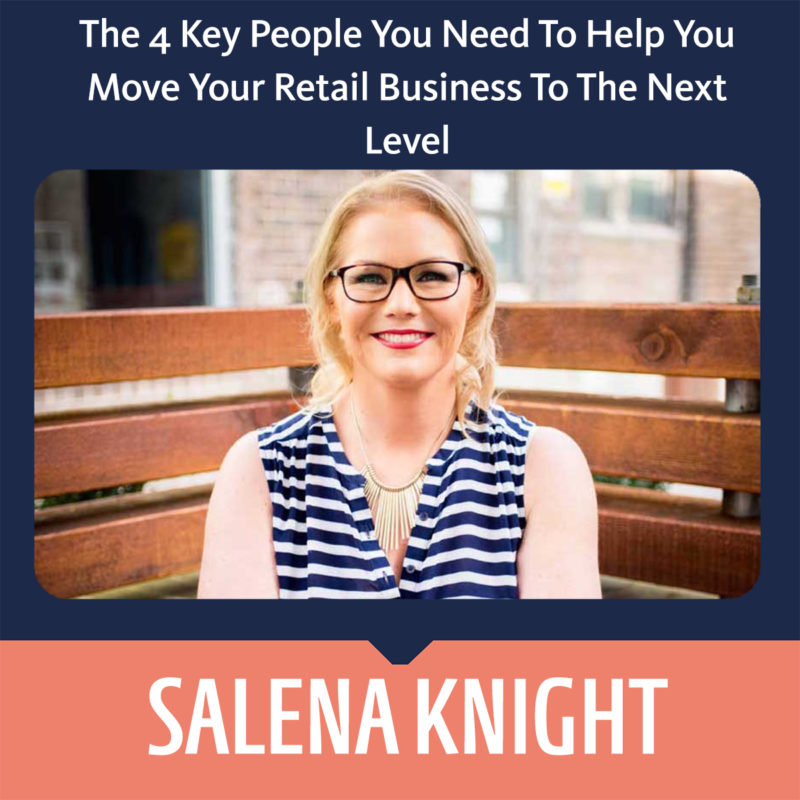 Bio
Over a decade ago, I started my first retail store online.
Things were different then.....
We were one of the first businesses on Facebook, out there building a community.
As it grew, I opened my first physical shop front.
That business grew to an award-winning chain of stores, had an army of loyal customers and a team that loved coming to work every day.
We created a brand, all built on a foundation of providing an awesome customer experience.
After systemising the business to the point I was no longer needed, I decided to sell up and help retailers around the world, grow their own retail empires.
And now I'm lucky enough to do exactly that. Every day I work with determined e-commerce store owners, bricks and mortar businesses and product creators, who use their retail businesses, to not only create freedom in their own lives, but to serve their customers in the best possible way.
I feel so grateful that we now live in a world where we can be buying and selling around the globe, 24 hours a day.
I love what digital marketing can do for our businesses and I'm constantly researching, testing and implementing products that can boost sales (preferably on autopilot), make our businesses run smoother and faster and give our customers, the personalisation that they're craving in this fast-paced world.
I'm so glad you're here, with me, along for the ride.
Strap yourself in - this is going to be great!