DISCOVER HOW TO BUILD THE RETAIL STORE
YOU'VE ALWAYS DREAMED OF
"There are so many different styles of meditation, find the right for yourself"
WHAT YOU'LL DISCOVER IN THIS INTERVIEW
Learn more about Andrea's yoga studio
How to find the right shopfront
Learn how she started her business and her journey
What to do when you don't have enough market for your business? Hear how Andrea attracted more customers
What do to when you need to expand your business area but you didn't plan for it?
Learn tips on how to increase the number of clients/customers
At which stage of your business you have to hire someone
How much important is the customer/client experience for your business
How to manage migration from yoga studio to something more
Why Andrea started her podcast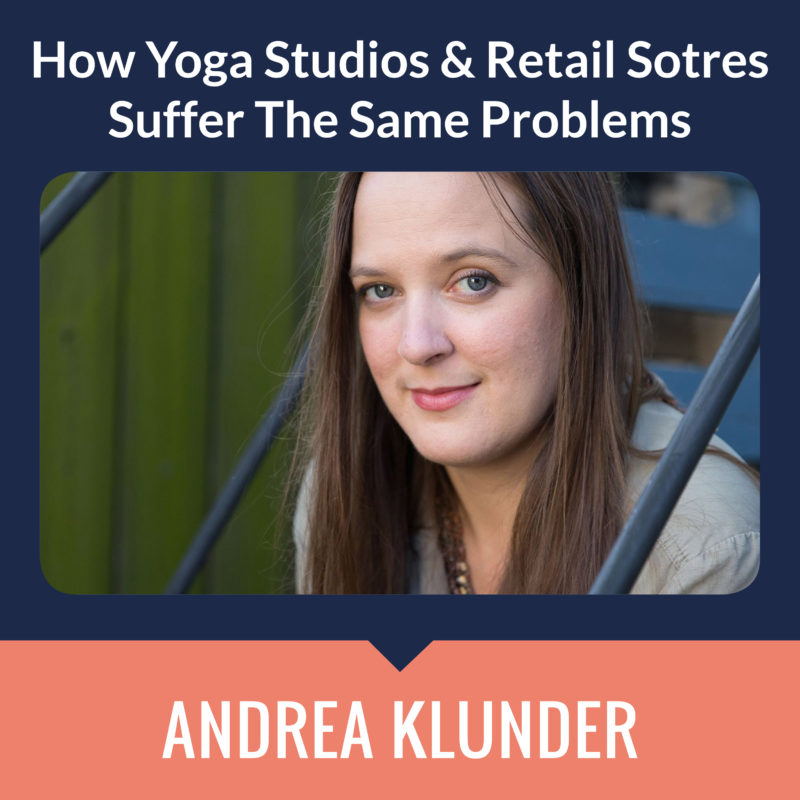 Bio
Andrea Klunder is a Meditation Facilitator for startup companies & creative individuals, Founder of Peace & Play Yoga for kiddos & grownups and the Producer & Host of The Creative Impostor Podcast, a show all about how to get out of your head and take bold action in your life and work, despite the little voice in your head that says, "Who do you think you are? You can't do THAT!" 
Whether teaching yoga to grownups at Sat Nam Yoga or for kids at Musical Magic in Chicago, Andrea integrates her background in music, theatre and creativity to engage students in a playful experience of peaceful practices. 
As a healer, she invokes therapeutic yoga and bodywork, Reiki, voice & mantra and the practice of yoga nidra into private sessions and has worked with everyone from total beginners, to babies, to women in developing countries, to celebrities like actress Diane Lane.
Andrea has been a featured presenter for The Yogipreneur, CRAVE, Nikki Nigl's About Women, the Women in Travel Summit, and the Women's Health Foundation. She organizes the Chicago Women's Creative Collective on Meetup.com and hosts Creative Space Retreats in Chicago, New Orleans and around the world to give you time and space to explore, connect and make cool work!
Most importantly, Andrea loves singing kirtan (musical meditation) as much as humanly possible.