DISCOVER HOW TO BUILD THE RETAIL BUSINESS
YOU'VE ALWAYS DREAMED OF
"Good things are just around the corner. Don't stop now!"
WHAT IS THE EPISODE ABOUT
If you use Mailchimp and Shopify, you would have received this message in the last couple of days.
Chances are, 1 of 3 things happened.
1.    You didn't actually open the email, so you're not really sure what the fuss is about.
2.    You opened the email, thought hmm, I probably need to look into that or
3.    You thought holy crap-balls, THIS IS BAD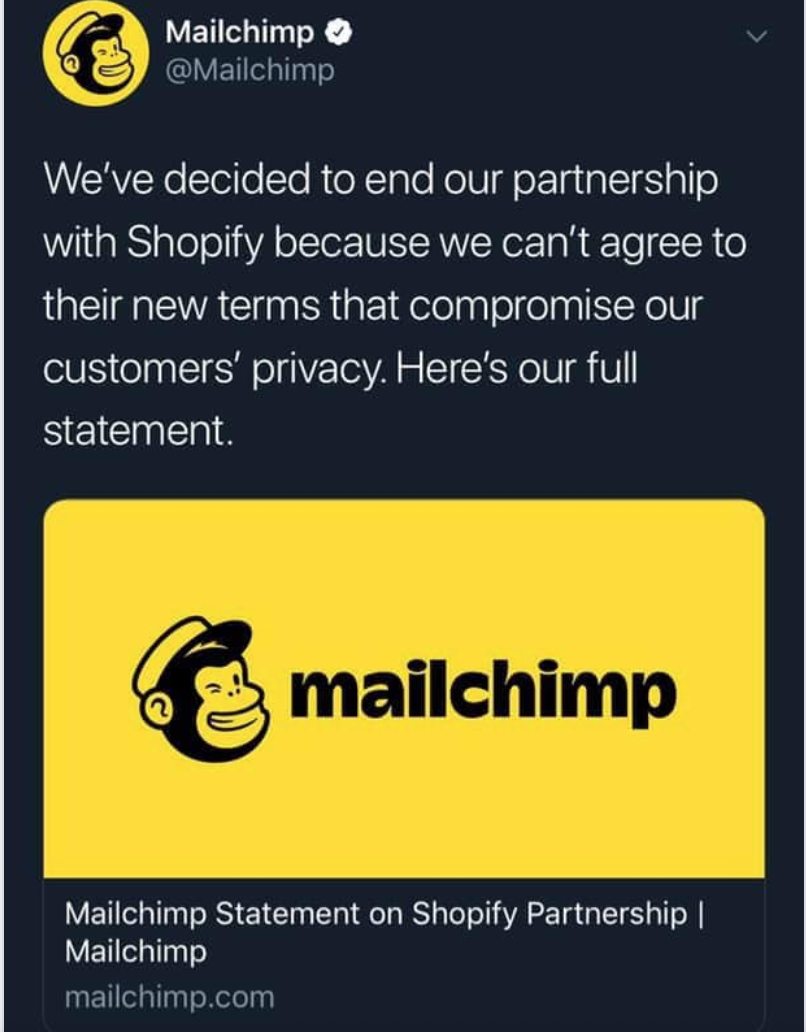 Not that I want to tell you what opinion you should have, but the truth is – if you weren't thinking number 3, or some version of it, then you are seriously underestimating how much an email list does for your business.
Fact is, when you use email well, your email list should be generating a lot of money for you!
Take this (real life) example from an ecommerce store with an email list of 10,000 people.

20% of their revenue comes from campaign-style emails. A further 15% of total revenue comes from automated flows. Who doesn't want an extra 6-figures of revenue generated on autopilot, right?
So, which email marketing platform is going to make you the most money?
Well for most of ecommerce and retail businesses, I'm going to recommend Klaviyo. If your business is purely ecommerce, fashion, homewares, jewellery, skincare etc, then Klaviyo is for you.
I made this little video to show you just a handful of the cool things Klaviyo will do for you (that Mailchimp never did).
OK, so how is Klaviyo different to MailChimp?
To put it into perspective, at its core MailChimp was designed to send email newsletters.
It wasn't built to be an ecommerce marketing platform.
Sure, you can use it for ecommerce marketing, you can add apps to it and hack it to do the things your business needs, but it's trying to be all things to all people.
Klaviyo, however, was solely built for ecommerce marketing.
In fact, Klaviyo says "over 3,700 Mailchimp customers switched over to Klaviyo last year, and they saw an average increase of 46% in total store revenue".
And who doesn't want that, right?
Let me tell you just a few of the reasons that I recommend Klaviyo to my customers and install it into my 1:1 client retail and ecommerce businesses.
First up, let's get an insider look at why Klaviyo is so powerful.
You know how you can install a Facebook pixel on your site, or link Google Analytics, so it tracks your customers every move? Well Klaviyo does that for your ecommerce store!
It keeps tabs on what your customer looks at, how long they spend on specific pages, what they purchase and what they click through to in an email. All the while, building a powerful, personalised customer profile.
Imagine being able, with a touch of a button, to send a product email, that was completely tailored to each recipient. What I see, is different to what you see, based on our buying and browsing behaviour. Well that's exactly what Klaviyo does, with a simple click of a button. Cool right?
Ok, so the next reason I love Klaviyo, is segmenting.
Unlike MC, where you have multiple lists, and duplicate funnels and emails, with Klaviyoyou can segment based on products purchased, website browsing behaviour, how long ago a person has purchased, or not purchased, whether they've opened and emails recently, or not.
So, why is this important.
Because, gone are the days when we can just send out newsletter blasts and hope people buy.
Let me throw some stats at you:
Personalized email messages improve click-through rates by an average of 14% and conversions by 10%. – Aberdeen
BUT
Only 39% of online retailers send personalized product recommendations via email. – Certona
Start using Klaviyo and personalising emails and you're already shooting ahead of your competition.
Oh, and imagine being able to run Facebook/Instagram ads to those segments – with Klaviyo, you 100% can, and even better, those segments are updated in real time. No more exporting lists to csv and then uploading them into Facebook business manager.
But probably my most favourite thing about Klaviyo, is that all of the funnels that everyone tells you need, well, they're already made.
Sure, should go in and tweak the email text to be more in line with your brand. Yeah, they'll totally do much better if you spend some time customising those emails, but if you don't have the time, you can just literally press go on the done for you flows and they'll start working immediately
I know I'm sounding like a complete fan girl of Klaviyo, but that's because I KNOW it makes you money.
With its Shopify integration, it can create dynamic coupons, you can report on your sales and customers, you can integrate with Facebook and Instagram – it truly is da bomb.
Now, the questions you've all been waiting for – PRICE.
Klaviyo is free for up to 250 subscribers. Sure, it's no Mailchimp-free-for-2000 subscribers.
But there's a reason for that.
Comparing the 2, is like comparing an exercise book for inventory management, to a full-spec point of sale system.
Sure, they can both manage inventory, but the exercise book requires a lot of input from you, probably isn't going to be as reliable and you'll have to do everything manually.
If you have under 1700 customers, you're looking at $75 per month.
But Klaviyo stats show that Shopify users make around $85 for every dollar they spend on Klaviyo and to me, that's a no brainer.
The truth is, if you're using Shopify and Mailchimp right now, you need to find something else. You're going to have to migrate your data and customers over anyway, so why don't you take this step and jump into Klaviyo?
Learn more about The Retail Academy – the only place where you can grab step by step retail & ecommerce marketing strategies.
In full disclosure, I'm a Klaviyo ambassador, because as a Retail Strategist, I use and recommend it for my retail and ecommerce clients every day.
Bio
My passion is to help independent retailers like YOU to have a profitable retail business – without burning out.
Business doesn't have to be all about stress and hard work – you can achieve success and enjoy the journey.
Unfortunately, it took me too many years of working more hours than I should and getting to the point of burn out, before I figured this out.
Even though I had a business degree, there was nowhere I could go to find out how to open or run a retail business.
There was no community of retailers who would openly share their knowledge or experience.
"Each week I interview industry and thought leaders for their take on business and life. Subscribe and leave as a review"